Companies
Name
Quotes
Allstate
$63

/mo

State Farm
$82

/mo

Progressive
$106

/mo

Nationwide
$121

/mo

GEICO
$147

/mo

Travelers
$164

/mo
How to Get Cheap Car Insurance in Washington DC?
We all know that Washington DC is popular for its parking difficulties, road traffic, and a huge number of tourists everywhere. Daily millions of commuters arrive at the city and most of them select driving options to travel around the capital city. With the rising number of drivers and traffic on the roads; the number of accidents is also rising every day. As a result, the cost for the car insurance policies in Washington is more than the majority of the state of our country.
To help our drivers in getting cheap policy our team of experts has curated a custom list. Check out the below list of some affordable companies that you can try to your policy:
Which are the Best Car Insurance Companies in DC?
When you start searching for your policy, what do you prefer: "best DC car insurance" or "cheap car insurance in DC"? Both search queries will provide different results because cheap insurance quotes will not include everything you need. But best car insurance quotes will be generated by considering all your requirements and your profile. This is the reason that the drivers who can afford to pay a bit extra prefer buying the best policy.
To help you get the best policy that can cover all your requirements RateForce has done custom researched and created list for you. Check out the below list that contains all the top car insurance carriers in Washington DC along with their average quotes:
Companies
Name
Quotes
Allstate
$91

/mo

State Farm
$104

/mo

Progressive
$126

/mo

The General
$144

/mo

GAINSCO
$167

/mo
How to Get Best Car Insurance Coverage in Washington DC?
Minimum Auto Insurance Requirements in Washington DC
Let's talk about the laws and requirements of car insurance. Every state in our country has its own list of minimum car insurance requirements that is a must for every driver in the state. If you want to use your vehicle to park or to drive on the roads of your state then you are going to need proof that you have bought the minimum required policy as per the laws. The same goes for Washington DC; the drivers have to buy minimum car insurance requirements that involve: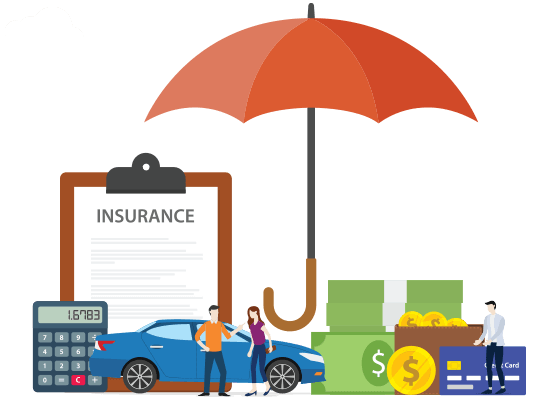 Bodily Injury Liability (BIL) Coverage:
You can find BIL or Bodily Injury Liability in the minimum car insurance requirements of every state of our country. Whenever a driver gets into an accident and he or she is at fault in it then all the medical expense of the victim has to be covered by his or her insurance company. This is when BIL comes into the picture. Below are the limits of Bodily Injury Liability Coverage:
$25,000 per person; if only one victim got hurt or died in the accident. It can be another driver or pedestrian.
$50,000 per accident; if more than one victim were injured or died in the accident. This involves passengers in other cars or multiple pedestrians.
Property Damage Liability (PDL) Coverage:
If we talk about the cost of physical damage to the property of another person then PDL comes into the picture. Let's say you wanted to save a puppy on the road and during that you collided with another person's private property. This can be a wall, fencing, garden, bench, door or even the dustbin. Now your car insurance company will be responsible to pay for the damages caused to the private property of the victim.
The property damage liability limit is $10,000 per accident in DC which is lower as compared to states like Maryland and Connecticut that have a PDL limit of $15,000 and $25,000 respectively.
Uninsured/Underinsured motorist coverage:
Now this coverage is for your benefit. This will help you in the situations where another driver is at fault in the accident but he or she does not have enough insurance coverage to cover all your expenses. In such cases, your own insurance company will come into the picture and will pay for all the medical bills of you and the passengers.
In Washington DC, the minimum liability coverage for Uninsured and Underinsured Motorists is $25,000 per person and $50,000 per accident.
Cheap Minimum Liability Car Insurance Companies in Washington DC
Here is the list of best companies that provide the lowest average rates to drivers for state minimum insurance coverage in Washington DC:
State Farm: $81 per month
Nationwide: $98 per month
Allstate: $119 per month
Progressive: $142 per month
GEICO: $167 per month
Cheap Basic Full Insurance Coverage in Washington DC
Here is the list of top insurance companies that provide the lowest average rates to drivers for our unique basic full insurance coverage in DC. It includes collision and comprehensive auto insurance coverage apart from state minimum auto insurance coverage.
Erie: $121 per month
SafeAuto: $148 per month
Progressive: $173 per month
Travelers: $198 per month
State Farm: $216 per month
Cheap Premium Full Insurance Coverage in Washington DC
Here is the list of top auto insurance carriers that provide the cheapest full coverage in DC. This covers all coverages as defined by state law in full coverage requirements with maximum benefits. Drivers with a clean driving record may consider this option.
Erie: $172 per month
SafeAuto: $184 per month
Progressive: $217 per month
Travelers: $248 per month
State Farm: $263 per month
Additional Auto Insurance Coverage in Washington DC
The mandatory insurance coverage for all drivers is included in the minimum requirement coverage. However, there are some insurance coverages that are not required but are still necessary to save money. The top seven types of insurance coverages that every driver should think about are as follows:
Cheap Car Insurance Quotes in Washington DC on Ticket Profile
Have you ever wondered how some drivers get lower insurance costs and some get higher even with the same car? Do you know how insurance companies calculate the cost of your policy? Every insurance company checks the profile of the driver and considers multiple factors to calculate the final cost of auto insurance. Some of these factors are the age of the driver, type of car, car model, location of the driver, and many more. Now based on these factors insurance companies create ticket profiles for the drivers and the cost of the policy is dependent on these profiles.
These ticket profiles help the companies to categorize the driver which ultimately helps them to calculate the risk factor. Here are the different car insurance ticket profiles that are applicable to the Washington DC Drivers:
Which Car Insurance Discounts are available in Washington DC?
The easiest way to get affordable car insurance in Washington DC is to get as many discounts as possible. Every company provides different types of discounts for car drivers. Here are the four most common discounts you can ask from any car insurance company:
Upfront Payment Discount:
Your insurance company will give you a good discount if you pay your annual premium in advance. Advance payment is preferred by every car insurance company. They reward the driver in order to promote this payment model. As a result, if you are financially capable of paying the annual premium in advance, you will receive a significant discount.
Safety Features Discount:
The driver, passengers, and the vehicle are all safer thanks to the safety features in the cars. As a result, the likelihood of accidents and injuries decreases, resulting in the driver filing fewer claims. You can get this discount if your car has features like automatic seat belts, anti-theft car alarms, and so on.
Multiple Vehicles Discount:
Do you own multiple vehicles and require coverage for all of them? Then your insurance company will try to persuade you to buy a policy from them for all of your vehicles. As a result, they will offer reasonable discounted rates; be sure to haggle as much as possible for this discount.
Multiple Policy Discount:
If you already have a car insurance policy and need additional coverage, you may qualify for this type of discount. It could be homeowner's insurance, life insurance, or any other type of coverage. Your insurance company will try to persuade you to purchase all of your policies from them. As a result, you will receive substantial discounts.
SR-22 Car Insurance in Washington DC
How much do you know about SR-22 insurance? SR-22 stands for Safety Responsibility 22 insurance which is required as per the law for some drivers.
If you are also someone who is searching for this insurance type then it can be because your license is suspended. Yes. SR-22 insurance is mandatory for every driver whose license got suspended because of any reason like driving without insurance, too many speeding tickets, or at-fault accidents. Anyone can apply for SR-22 insurance as it is an easy process. But the cost to buy an SR-22 policy is not affordable for every driver. The drivers from this category are considered as riskiest drivers and hence they get higher rates. Below are some companies that you can try to get affordable insurance rates as an SR-22 driver:
| Company | Average Annual Rate | Annual Average Premium with SR-22 and DUI |
| --- | --- | --- |
| State Farm | $891 | $1,174 |
| Progressive | $928 | $1,236 |
| GEICO | $1,156 | $1,573 |
| Travelers | $1,342 | $1,689 |
| Allstate | $1,487 | $1,732 |
Best Cities for Cheap Car Insurance in Washington DC
Washington DC is the National Capital Region of our country hence comparing it with other states can be confusing. Like other states, Washington DC does not have cities but it includes Principal Cities in its metro area. The cost of car insurance in these principal cities is higher than in other cities.
Here are the top principal cities of the Washington Metro Area along with their car insurance rates:
| City | Avg. Annual Premium |
| --- | --- |
| Rockville | $1,349 |
| Laurel | $1,364 |
| Arlington | $1,448 |
| Falls Church | $1,517 |
| Alexandria | $1,533 |
| Springfield | $1,566 |
| Bethesda | $1,710 |
| Gaithersburg | $1,931 |
| Clinton | $1,653 |
| College Park | $1,468 |
FAQs

About Car Insurance In DC

Q
What is the cost of average car insurance in Washington DC?
A
Even though the average cost can vary for each driver; in Washington DC, you will have to pay $84 per month and $972 per year on average. This cost is higher than most of the states of our country.
Q
Why is car insurance expensive in Washington DC as compared to other states?
A
One of the major reasons behind the higher insurance rates in DC is the higher amount of healthcare, auto repair, and the number of uninsured drivers. Also, cities like Seattle, Bellevue, and Tacoma have higher vehicle theft rates as a result the companies increase the rates of car insurance.
Q
How does car insurance work in Washington DC?
A
Washington DC is an at-fault state that means the driver who is responsible for the accident will pay for the medical bills and damages caused to other victim(s). Full coverage insurance in DC means combining collision, comprehensive insurance with the minimum requirement of the state.
Q
What are the penalties for driving without insurance in Washington DC?
A
Driving without insurance in DC involves monetary fines and punishment. You will have to pay a $450 fine and community service. In states like Virginia; drivers get the suspension of their license along with their license plate.
Q
Is it possible to insure a vehicle without registering it in DC?
A
No, it is not possible. You will have to buy the insurance of your car first before the registration. You will be asked to provide it as proof during the registration process.
Q
What happens if you get into a car accident without insurance in Washington DC?
A
If you were not at fault in the accident then you might not get the compensation or the process will be highly complex. If you were at fault in that accident then the consequences, fine and punishment will affect your car insurance policy lifetime.
Get Cheap Car Insurance in Washington DC Now.
Editorial Guidelines: The above content is meant as general information to help you understand the different aspects of auto insurance. This information does not refer to any specific auto insurance policy. Coverages and other features vary between insurers, vary by state, and are not available in all states. References to costs of coverages/repair, average or typical premiums, amounts of losses, deductibles, etc., are indicative and may not apply to your situation. We encourage you to speak to our insurance representative and to read your policy contract to fully understand your coverages.