Companies
Name
Quotes
Progressive
$62

/mo

Safe Auto
$78

/mo

GEICO
$90

/mo

Travelers
$96

/mo
Cheap Car Insurance In Kentucky
At RateForce; We want to deliver cheap Kentucky car insurance rates for all the drivers as per their requirements. As a result; we check insurance rates of drivers with different profiles like suspended licenses, DUIs, tickets, etc. After analyzing the data we have the list of companies in Kentucky that have the cheapest car insurance rates:
Best Car Insurance Companies in Kentucky
To provide you the best rates from the top companies in Kentucky, we check each insurance carrier for certain factors. Some of these factors are financial strength ratings, consumer satisfaction ratings, and the health of the company. Based on the results of these factors we have created a list of companies with the best car insurance rates:
Companies
Name
Quotes
Progressive
$62

/mo

Safe Auto
$78

/mo

Travelers
$96

/mo

State Farm
$107

/mo
How to Get The Best Auto Insurance Coverage Policy In Kentucky?
Minimum Kentucky Car Insurance Requirements
Each state has its requirements for a driver to drive or park the vehicle on the roads of the state. In Kentucky there are three major requirements for every driver: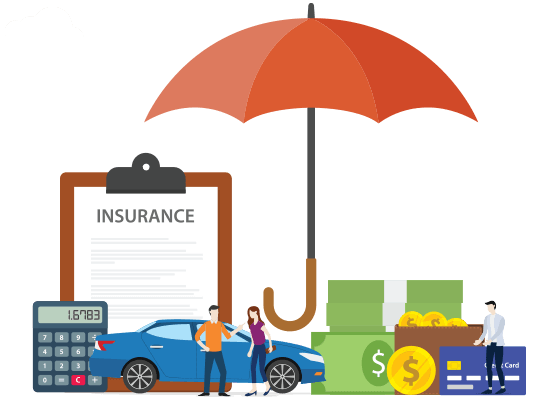 Personal Injury Protection(PIP):
This to cover the personal medical coverage of the driver and the passengers. The drivers have to take a PIP coverage of $10,000 per person to drive in Kentucky.
Property Damage Liability(PDL):
If the driver is determined to be at fault in an accident then the insurance company will provide coverage. The coverage will be for the property damage of the other driver or person (in the case of individual property like a house, garden, or fence). The drivers in Kentucky are required to buy $25,000 per accident coverage for property damage.
Bodily Injury Liability(BIL):
If the driver is at fault then the insurance company will cover the medical expenses of the other driver or pedestrian. As per state law, this type of insurance requires a 25/ 50 coverage limit. $25,000 for the death or medical bills of a single person or $50,000 for the deaths or injuries in the accident.
Additional Insurance Coverage in Kentucky:
Collision Coverage:
This type of coverage is important in case you collide with another person's property like a house, car, fence, or tree. Your insurance company will cover the damage cost.
Uninsured and Underinsured Motorist:
This is important if you get into an accident with another driver and that driver does not have enough insurance. Your insurance carrier will cover all your expenses to repair the damages.
Comprehensive Coverage:
If your vehicle is damaged in a natural or man-made calamity then this coverage will play an important role. For example, your vehicle gets caught in a fire, hail storm, thunderstorm, or even vandalism.
Roadside Assistance:
If you are traveling on a highway or through a deserted area and you need assistance with your vehicle. Then your insurance company will send road assistance to help you with the repair or towing services.
Medical/Funeral Services:
This type of coverage assists with medical services like calling an ambulance or dead body transportation. The insurance company will also provide coverage for the funeral services.
Vehicle loan/ Lease payoff:
If your vehicle is declared as a total loss and can not be repaired but you have a pending loan or lease. Then your insurance carrier will help you to pay the pending loan amount or the lease amount on the vehicle.
Rental Car Reimbursement:
Till the time your car is under repair, you can rent another car at the expense of your insurance company. The company will provide coverage for the cost of renting the car.
Car Insurance Quotes In Kentucky Based on Ticket Profile
There are a lot of factors that affect the final cost of car insurance in any state. Based on these factors some ticket profiles get higher insurance rates and some others get lower rates. Here are insurance quotes for different ticket profiles in Kentucky:
Cheap Car Insurance for Kentucky Drivers with DUI
Driving under the influence is a serious offense in Kentucky, and it can even lead to license suspension. A driver with a DUI ticket falls under the category of risky drivers. And hence; it increases the car insurance rate.
Here are some companies in Kentucky that provide lower insurance rates to Kentucky drivers:
Insurance Company
Quote
GEICO
$137

/mo

State Farm
$165

/mo

Progressive
$180

/mo

Allstate
$223

/mo

Travelers
$235

/mo
Insurance Company
Quote
State Farm
$85

/mo

Allstate
$87

/mo

GEICO
$95

/mo

Progressive
$104

/mo

Travelers
$117

/mo
Cheap KY Car Insurance for Good Drivers
A good driver is someone who has a clean driving record without any violations or tickets. And an experienced driver is someone with more than 7 years of driving experience. A good and experienced driver always get lower rates as compared to others.
Here are the top companies in Kentucky that provide the lowest insurance rates for Good Drivers:
Best Car Insurance for Speeding Drivers
Speeding drivers are the riskiest and dangerous ones. And risky drivers always get higher insurance rates because of the higher amount of claims. As a result, the car insurance rates in Kentucky for drivers with speeding tickets are higher than usual.
Here are some of the companies you can try if you need cheap insurance quotes:
Insurance Company
Quote
GEICO
$130

/mo

Progressive
$145

/mo

Allstate
$215

/mo

USAA
$195

/mo
Insurance Company
Quote
Progressive
$135

/mo

GEICO
$160

/mo

Allstate
$180

/mo

Travelers
$230

/mo
Car Insurance Rates for Drivers with an At-Fault Accident
Just like speeding drivers and drivers with DUI, Drivers with an at-fault accident on the record are considered risky. Some insurance companies even decline insurance to such drivers. And others increase the cost of insurance to almost double.
Here are some companies you can try to get affordable car insurance rates in Kentucky:
Cheap Car Insurance for Young Drivers
Young drivers lack the experience of driving a vehicle and hence they are also risky drivers. Young drivers always get the highest insurance rates. The only way they can get lower rates is by asking for a good student discount.
In Kentucky, a young driver with an average of B grade or higher can apply for a good student discount. For other drivers, here are top companies that can provide you affordable rates:
Insurance Company
Quote
Progressive
$135

/mo

Allstate
$180

/mo

GEICO
$205

/mo

State Farm
$247

/mo
Which Auto Insurance Discounts available in Kentucky?
As per a study by Neighbourhoodscout; Louisville has 83 percent more cases of car theft than any other city in the USA. This is one of the major reasons why car insurance is so expensive in Kentucky.
The best way to get affordable car insurance rates is by asking for discounts. Here are Four Types of Auto Insurance Discounts for Kentucky drivers:
Different Vehicle Discount:
This discount is applicable if you own two or more vehicles. Every Insurance carrier provides a discount to a driver who buys insurance for more than one vehicle from the same company.
Safety Feature Discount:
Does your car have advanced safety features like anti-theft sensors, automatic seat belts, and anti-lock brakes? If yes then there are high chances that you might get a good discount on your insurance rates. Advanced safety features lead to fewer chances of accidents and hence fewer chances of filing a claim.
Upfront Payment Discount:
Your insurance company will always reward you for advance payment. Paying your annual premium in advance creates loyalty and the company provides good discounted rates. If you can afford to pay your insurance premium in one go then negotiate for a discounted price.
Multi-Policy Discount:
If a driver decides to buy multiple policies from the same company then this type of discount comes into the picture. This is also known as policy bundling. If you need house owner insurance or you want to buy life insurance then you will get good discounts.
Auto Insurance for SR-22 in Kentucky
Drivers who have suspended licenses due to too many law violations or tickets like DUI or Speeding need SR-22 insurance. This is proof that the driver is financially capable to cover the minimum coverage requirements of the state.
It is important to note that SR-22 insurance is not required in Kentucky. But if you are traveling from an outside state and you are required to have an SR-22 there then you will have to carry it.
Auto Insurance Rates by City in Kentucky
States, cities, and even zip codes play an important role in the cost of auto insurance. Every area has a different insurance rate based on different factors. In Kentucky state; Fort Thomas has the cheapest car insurance rates and Louisville has the most expensive rates. Here is the list of auto insurance in the top cities of Kentucky:
| City | Avg. Annual Premium |
| --- | --- |
| Louisville | $2,432 |
| Frankfort | $1,731 |
| Elizabethtown | $1,779 |
| Jeffersontown | $1,904 |
| Winchester | $1,719 |
| Radcliff | $1,798 |
| Madisonville | $1,787 |
| Henderson | $1,754 |
| Danville | $1,737 |
| Georgetown | $1,715 |
| Ashland | $1,783 |
| Murray | $1,763 |
FAQs

About Kentucky Car Insurance

Q
What is the Average Cost of Car Insurance in KY?
A
The monthly cost of car insurance in Kentucky is $167. This is almost 31 percent more than the average monthly car insurance cost in the USA. If you want to know how the average insurance rate will change in 2021 then this blog will help: The Average Car Insurance Cost in 2021.
Q
Is Kentucky an at-fault state?
A
No. Kentucky is a no-fault state. This means that; in case of an accident, the driver will be responsible for their own medical bills only. The driver is not liable to pay the medical bills of the other driver.
Want to know more about the different terms used in auto insurance: Here is a detailed auto insurance terms glossary guide.
Q
What if a driver is caught without the minimum required insurance coverage?
A
There are several penalties for driving a vehicle without proper insurance in Kentucky. The driver might lose the vehicle plate number and the license will also get suspended. Along with that either a fine of $500 to $1000 or jail time up to 90 days.
Q
How can I get cheap car insurance rates in Kentucky?
A
There are two ways to get cheap insurance quotes:
Ask for as many car insurance discounts as possible. You can always negotiate for the best rates by combining different discounts.
Compare the rates from different companies in your area. Rate force provides a list of top insurance carriers in your area along with their cheapest rates.
Q
Which company has the cheapest car insurance rates in Kentucky?
A
Every company has its own method to calculate the cost of car insurance. Based on our data we can say that Progressive insurance provides the cheapest car insurance rates.
Q
How can I get a Good Student Discount in Kentucky?
A
To get a good student discount in Kentucky the students should be full-time and under 25 years. Plus the student should be at least one from the following list:
The student should be in the upper 20 percent of the class scholastically
The average grade should be B or higher
If the school provides a grade point average then the student 3.0 or higher (out of 4.0)
Home study students have to submit proof of ranking in the top 20 percent scholastically in national standardized tests.
Get Best Cheap Car Insurance in Kentucky now!
Editorial Guidelines: The above is meant as general information to help you understand the different aspects of auto insurance. This information does not refer to any specific auto insurance policy. Coverages and other features vary between insurers, vary by state, and are not available in all states. References to costs of coverages/repair, average or typical premiums, amounts of losses, deductibles, etc., are indicative and may not apply to your situation. We encourage you to speak to our insurance representative and to read your policy contract to fully understand your coverages.