Companies
Name
Quotes
SafeAuto
$69

/mo

Travelers
$79

/mo

Progressive
$93

/mo

Arrowhead
$127

/mo
Cheap Car Insurance In SC
Looking for cheap SC car insurance rates? At RateForce we analyze a lot of data to calculate and deliver the rates from different insurance companies in one place. We have analyzed data of more than twenty drivers based on several factors like driving history, age, DUIs, car type, etc. Here is the list of the insurance companies which provide the cheapest rates in South Carolina.
Best Auto Insurance Companies in South Carolina
Every industry has its definition of best rates and cheap rates and the same goes with Insurance companies. To decide which company provides the best car insurance rates a driver will have to check a lot of different factors like the reliability of the company, the health of the company, and the quality. With RateForce you don't have to do any manual work, we are here to do all the research tasks for you. Here are the best car insurance companies in South Carolina:
Companies
Name
Quotes
SafeAuto
$69

/mo

Travelers
$79

/mo

Progressive
$93

/mo

Arrowhead
$127

/mo
How to Get the Best Car Insurance Coverage Policy In South Carolina?
Minimum Car Insurance Requirements in South Carolina
Every state has its traffic and road laws that decide when and how a driver should use its vehicle. To drive your vehicle on the road of South Carolina there are some minimum insurance requirements you have to follow.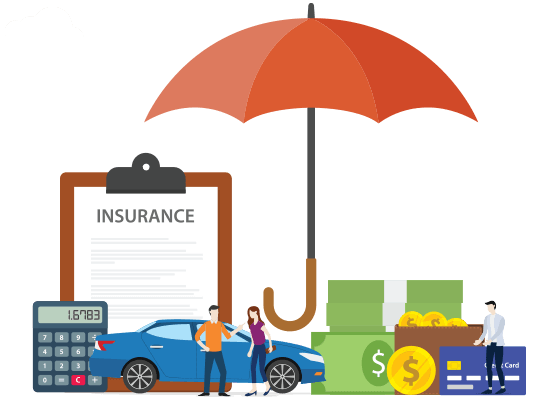 Bodily Injury Liability Per Accident:
Your insurance company will cover the expenses of another driver in case of an injury or a death at your fault. The minimum requirement is $25,000 per person and $50,000 per accident.
Property Damage Liability (PDL):
Your insurance company will cover the damages caused by you to another person's property like home, vehicle, or building. The minimum requirement for this is $25,000.
Other Car Insurance Coverage in South Carolina:
Uninsured Motorist Coverage:
If the other driver is at fault but does not have insurance then your insurance carrier will cover the expenses.
Collision Coverage:
This insurance coverage helps the driver in cases where the vehicle collided with another person or object like a fence, house, or pole.
Comprehensive Coverage:
If your vehicle gets caught in a natural or man-made calamity like storm, fire, or vandalism then this will be helpful.
Uninsured and Underinsured Motorist Coverage:
If the at-fault driver does not have enough insurance to cover your expenses then your insurance company will handle the bills.
Medical/Funeral Services Coverage:
This will cover services like calling an ambulance, dead body transportation, or funeral services.
Roadside Assistance Coverage:
If your vehicle breaks down at a deserted place or in the middle of a highway then your insurance carrier will help you.
Vehicle Loan/Lease Payoff:
If your vehicle goes into a total loss then your insurance company will pay the amount remaining on your loan or lease.
Rental Car Reimbursement:
Your insurance provider will cover the charges for your rental car while your vehicle is under maintenance.
Car Insurance Quotes In South Carolina Based on Ticket Profiles
There are a lot of factors like age, higher education, marital status, etc that affect the car insurance cost in South Carolina. Each factor has its value and here are some of the popular ticket profiles which affect the insurance cost:
Best Auto Insurance Coverage in SC for Speeding Drivers
Your need for speed will end up in getting a speeding ticket and a need for a new budget. A speeding ticket always increases your insurance premium rate. With a speed ticket, you will get some points on your license. Higher mph will add higher points, and the number of times you have been caught speeding will also impact the points. The points will decide the increase in your insurance premium.
Insurance Company
Quote
SafeAuto
$90

/mo

Travelers
$103

/mo

Progressive
$121

/mo

Arrowhead
$165

/mo
Insurance Company
Quote
SafeAuto
$117

/mo

Travelers
$134

/mo

Progressive
$158

/mo

Arrowhead
$216

/mo
Cheap South Carolina Car Insurance for DUI Drivers
Driving Under Influence(DUI) is another major factor that affects the car insurance premium. If you get caught with DUI then you will get into the risky driver's categories instantly. Drivers can try for fallout but the process is long with SR-22 filing, court fines, reinstatement fees, and a higher premium. How long DUI is going to impact your insurance premium depends on your carrier; it can be 3 years or 5 years or more.
Cheap Car Insurance for Drivers with an At-Fault Accident
An at-fault accident on your profile will have the highest impact on your insurance premium. Even if the accident was small and harmless the driver will get higher premium rates. The reason is; an at-fault driver gets into the list of a risky driver. Insurance companies always make sure to save themselves hence they charge more premium rates from risky drivers. You can try for accident forgiveness. Accident forgiveness allows the driver to pay a one-time fee to clean their records.
Insurance Company
Quote
SafeAuto
$99

/mo

Travelers
$114

/mo

Progressive
$134

/mo

Arrowhead
$183

/mo
Insurance Company
Quote
SafeAuto
$95

/mo

Travelers
$112

/mo

Progressive
$130

/mo

Arrowhead
$178

/mo
Cheap Car Insurance for Young Drivers
In South Carolina, drivers under 40 years of age are considered young drivers. As per the insurance agencies; young drivers are riskier and have low experience on the road. As a result, they get higher insurance rates. An advantage for young drivers in South Carolina is; the state has banned agencies to consider gender and education as a factor. This saves a lot of money and young drivers get a bit of relaxation.
Cheap Car Insurance for South Carolina Good Drivers
In South Carolina, good drivers get a lot lower insurance rates as compared to other profiles. A good driver is someone who has maintained a clean driving record. A person who does not have any violations or at-fault accidents on the profile is considered a good driver. With good discounts and lower premium rates, drivers can easily afford car insurance.
Insurance Company
Quote
SafeAuto
$69

/mo

Travelers
$79

/mo

Progressive
$93

/mo

Arrowhead
$127

/mo
Auto Insurance for SR-22 in South Carolina
The drivers who have been convicted of traffic law violations too many times are required to carry SR-22 insurance. This is to ensure that the driver is financially capable to meet the South Carolina car insurance requirements. Even though the charges of filing an SR-22 are less than $50 but the SR-22 insurance rates are higher. The drivers of South Carolina are required to carry SR-22 for at least 3 years. As a result, the car insurance rates for the driver will be higher for at least the next three years.
| Company | Annual Average Premium | Annual Average Premium with SR-22 and DUI | Percent Increase |
| --- | --- | --- | --- |
| SafeAuto | $828 | $1664 | 101.00% |
| Travelers | $948 | $1925 | 103.00% |
| Progressive | $1116 | $2176 | 95.00% |
| Arrowhead | $1524 | $3002 | 97.00% |
What type of Auto Insurance Discounts are available in South Carolina?
Do you know? As per a report by the South Carolina Department of Public Safety, South Carolina had 924 fatal car accidents in 2020 despite the lockdown in the state. And this is one of the main reasons that car insurance is so expensive in South Carolina. For all the SC drivers; here are some discounts that might help you to lower the rates:
Safety Features Discount:
If your vehicle has advanced safety features that can protect the driver from injuries then you will get a good discount. Features like an automatic seatbelt, anti-lock brakes, and car alarms have the highest impact on lowering your car insurance costs.
Multiple Vehicle Discount:
This one is applicable if you have more than one vehicle and you need insurance for all of them. Your insurance company will try to convince you to buy car insurance for all from them only. As a result, you can ask for good discounted rates from the company.
Multiple Policy Discount:
This is also known as policy binding. This discount is beneficial if a driver owns a house or wants to buy life insurance from the same company. In such cases, the company provides good discounts to the driver as a reward for considering their company.
Upfront Premium Payment Discount:
Insurance providers promote upfront payment everywhere. If a driver agrees to pay the annual premium in advance then the company provides good discounted rates. The upfront payment assures the company and saves the time of taking monthly updates.
Auto Insurance Rates by City in South Carolina
Do you know every city has its own rules and method of calculating car insurance rates? Wondering what is the average cost of car insurance in SC cities? Here is the list of average insurance rates in the top South Carolina Cities:
City Name
Avg. Monthly Premium
Hilton Head Island
$96

/mo

Mount Pleasant
$102

/mo

Myrtle Beach
$107

/mo

Greenville
$99

/mo

Charleston
$109

/mo

Taylors
$95

/mo

North Charleston
$106

/mo

Florence
$105

/mo

Rock Hill
$109

/mo

Summerville
$105

/mo

Goose Creek
$113

/mo

Columbia
$110

/mo
FAQs

About South Carolina Car Insurance

Q
Is South Carolina a No-Fault State or At-Fault State?
A
In an at-fault state, the insurance company will be responsible to cover the repair and medical bills of the victim for the driver. South Carolina is an At-Fault or Tort liability state. Hence; The insurance carrier will be liable to cover the bills of the victim in case of a car accident.
Q
How can I get the cheapest car insurance in South Carolina quotes?
A
Car insurance is expensive in South Carolina. To get cheap insurance rates the driver has two options; first to look out for car insurance discounts and second; to compare the rates.
Shop online and check the insurance rates from as many companies as possible. You can either check the rates of each company manually or automatically.
By checking the quotes manually you will have to make a list of the companies in your area. After that, you will have to check if they cover your requirements and then ask for a quotation.
On the other hand, automatically is when you just enter your pin code and you will get the details of all the insurance carriers in your locality. The Rateforce website is the perfect place to compare the quotes from different agencies in one place.
Q
How much is the average car insurance rate in South Carolina?
A
As compared to the national average of the United States; South Carolina has a bit lower rates. For the minimum requirement coverage; The driver will have to pay $12 per month and $684 per year. Here is a detailed resource on what will be the Average Car Insurance Cost in 2021.
Q
Which company has the cheapest car insurance in South Carolina?
A
The cheapest insurance providers in South Carolina are SafeAuto and Travelers. While SafeAuto provides minimum coverage at $69 per month, Travelers provides $79 per month. These companies have a strict requirement policy, if you are not qualified for these two then you can try for Progressive, and Arrowhead.
Q
What are the penalties in South Carolina for driving without car insurance?
A
Driving without insurance is a serious crime in South Carolina. The driver will get a ticket instantly and might get arrested. The driver will have to pay $5 for each day your car was not insured. Plus reinstatement fees of $550. The driving privilege, vehicle registration, and license plate will be suspended. If the driver fails to get insurance within 20 days after the ticket then the license and/or the vehicle registration will be suspended indefinitely.
Compare and Find Best Cheap Car Insurance in South Carolina now.
Editorial Guidelines: The above is meant as general information to help you understand the different aspects of auto insurance. This information does not refer to any specific auto insurance policy. Coverages and other features vary between insurers, vary by state, and are not available in all states. References to costs of coverages/repair, average or typical premiums, amounts of losses, deductibles, etc., are indicative and may not apply to your situation. We encourage you to speak to our insurance representative and to read your policy contract to fully understand your coverages.