Companies
Name
Quotes
SafeAuto
$49

/mo

State Farm
$52

/mo

The General Insurance
$71

/mo

GEICO
$107

/mo
Cheap Pennsylvania Car Insurance
Our team of experts at RateForce works hard to provide the best cheap car insurance in Pennsylvania. As a result, we analyze records from different drivers or different age and vehicle types to calculate the rates. Here is the list of quotes from the top insurance carriers in Pennsylvania:
Best Car Insurance Quotes in Pennsylvania
Some people know the difference between cheap and the best. As a result, they want the best car insurance company for their vehicle. To decide which company is the best in your area, you will have to analyze a few factors. The major factors are the reliability score of the company, its quality, and health. Based on all the factors here is the list of top companies that have the best car insurance rates in Pennsylvania:
Companies
Name
Quotes
SafeAuto
$49

/mo

State Farm
$52

/mo

The General Insurance
$71

/mo
How to Find the best Car Insurance Coverage Policy In Pennsylvania?
Minimum Pennsylvania Car Insurance Requirements
Every state has its own rules and regulations when it comes to driving on the road. These rules can be like keeping insurance proof while driving or having minimum liability insurance. In Pennsylvania; the minimum liability insurance limitations are unique as compared to the other states.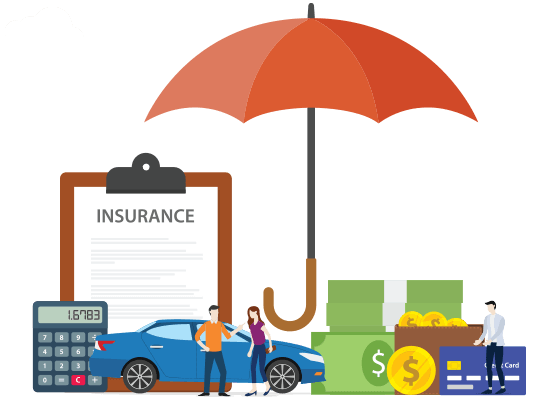 Bodily Injury Liability(BIL):
BIL in Pennsylvania is $15,000 if there is only one victim in the car accident and $30,000 if there is more than one victim.
Personal Injury Protection(PIP):
The insurance company will provide medical benefits for $5,000 per accident with a higher limit of up to $100,000 per accident.
Property Damage Liability(PDL):
If the driver is at fault where another person's property has been damaged then the insurance provider will provide $5000 liability.
Other Car Insurance Coverage in Pennsylvania:
Comprehensive Coverage:
This type of coverage will provide you coverage in case your vehicle gets caught in fire, storm, or vandalism.
Collision Coverage:
If your car collides with a pole, tree, fence, or even a pedestrian, the insurance company will cover all the expenses.
Uninsured Motorist Coverage:
This coverage is important when you get into a car accident and the other driver does not have insurance to cover your expenses. Your insurance provider will handle all the bills.
Underinsured Motorist Coverage:
If your car gets into an accident and the at-fault does not have enough coverage to help you with the bills. In such cases, your company will provide the coverage required.
Medical/ Funeral Services:
Insurance career will provide services like calling an ambulance, dead body transportation, or funeral services.
Rental Car Reimbursement:
While your car is under maintenance at a garage your insurance carrier will cover all the changes in renting a car.
Roadside Assistance:
When your vehicle breaks down in a deserted place then your insurance company will provide you with assistance.
Vehicle loan/ Lease payoff:
If your car gets into total loss then the insurance provider will help you to pay off all the remaining loan or lease amount.
Car Insurance Quotes In Pennsylvania Based on Ticket Profile
Car insurance rates can vary for every person based on a lot of factors. Some of these factors can be the education of the driver, marital status, and gender (in a few states). These factors lead to different ticket profiles and here are the car insurance quotes based on different ticket profiles:
Best Car Insurance for Drivers with DUI
A DUI ticket plays a major role in increasing your premium. If the driver ever gets caught driving under the influence then the insurance rates increase instantly. A driver with a DUI is considered a highly risky driver and hence gets higher car insurance rates. Here is the list of companies that provide affordable insurance to drivers with DUI:
Insurance Company
Quote
SafeAuto
$68

/mo

State Farm
$72

/mo

The General Insurance
$99

/mo

GEICO
$148

/mo
Insurance Company
Quote
State Farm
$65

/mo

SafeAuto
$68

/mo

The General Insurance
$92

/mo
Cheap Car Insurance for Drivers with "At-fault" History
Even a small at-fault accident on your records can lead to the increment of your car insurance premium. A driver with an at-fault history is considered a risky driver and hence some companies even cancel the insurance. Here are the top companies in Pennsylvania that will help you to get affordable car insurance after an At-Fault accident:
Cheap Car Insurance For Speeding Drivers
Every state and its law advise drivers to control the speed of their vehicle. Just like DUI; speeding drivers are also considered risky ones and have high insurance premium rates. Here are some of the companies that provide affordable car insurance for speeding drivers in Pennsylvania:
Insurance Company
Quote
SafeAuto
$58

/mo

State Farm
$62

/mo

The General Insurance
$85

/mo
Insurance Company
Quote
SafeAuto
$75

/mo

State Farm
$78

/mo

The General Insurance
$95

/mo
Car Insurance Rate for New/Young Drivers in PA
New, Young, and Teen drivers are always considered risky because of their lack of experience of the road. Hence every company provides higher insurance premiums to young and new drivers. In Pennsylvania, students can apply for a good student discount if they have at least a B average. Here are the companies you can ask for cheap PA car insurance:
Car Insurance Rates for Good and Experienced Drivers
In Pennsylvania; drivers with a clean track record and experience on road are considered as good drivers. Good drivers are always appreciated and rewarded by insurance companies because they are the least risky drivers. Here is the list of companies you can try to get good, discounted prices:
Insurance Company
Quote
SafeAuto
$49

/mo

State Farm
$52

/mo

The General Insurance
$71

/mo

GEICO
$107

/mo
Auto Insurance for SR-22 in Pennsylvania
SR-22 insurance is proof that the driver is capable to meet the minimum liability requirements of the state. It must for the drivers in Pennsylvania who have a track record of at-fault accidents, violations, and DUI.
Pennsylvania state does not have a compulsory requirement for SR-22. But for the drivers moving to Pennsylvania from other states will have to carry an SR-22 is required. The same is applicable for drivers who are traveling outside Pennsylvania and have their license suspended due to any reason.
The cost to file an SR-22 in Pennsylvania is $25, but the impact of SR-22 on your annual premium is huge.
| Company | Annual Average Premium | Annual Average Premium with SR-22 and DUI | Percent Increase |
| --- | --- | --- | --- |
| SafeAuto | $588 | $1323 | 125.00% |
| State Farm | $624 | $1373 | 120.00% |
| The General Insurance | $852 | $1832 | 115.00% |
| GEICO | $1287 | $3133 | 144.00% |
What Types of Auto Insurance Discounts available in Pennsylvania?
Pennsylvania has a high population density and a no-fault policy. This is the major reason why car insurance is so expensive in Pennsylvania. Everyone can not afford to buy insurance coverage at higher rates so here are some car insurance discounts for drivers. You can ask your insurance provider for these discounts to get lower premium rates:
Safety Features Discount:
The safety features in your car decrease the risk of injuries and accidents. Hence if your vehicle has features like anti-lock brakes, automatic seat belts, or car alarms then the cost will decrease.
Multiple Vehicle Discount:
This one is applicable if you have more than one vehicle and you need insurance for all of them. Your insurance company will try to convince you to buy car insurance for all from them only. As a result, you can ask for good discounted rates from the company.
Advance Payment Discount:
Everyone appreciates surety and so do car insurance companies. When a driver pays the annual insurance premium upfront the company provides a good discount. This is to promote and reward advance car insurance premium payment options among the drivers.
Policy Bundling Discount:
This is also known as multiple policy buying from one insurance provider. Policy bundling is when you already have car insurance from a company and now you want to buy other insurances. The insurance company will give you good discounts to buy other insurances like life or house insurance.
Auto Insurance Rates by City in Pennsylvania
Every state and city has its own rules and laws. As a result, car insurance rates vary in every state and even in cities. Do you know Philadelphia has the most expensive car insurance and state college have the cheapest car insurance in Pennsylvania? Wondering what will be the cost of car insurance in your city? Here is the list of auto insurance premium rates of the top cities in Pennsylvania:
| City | State Minimum Coverage | Full Coverage |
| --- | --- | --- |
| Philadelphia | $1,480 | $3,070 |
| Darby | $1,405 | $2,685 |
| Upper Darby | $1,245 | $2,565 |
| Chester | $1,098 | $2,530 |
| Levittown | $1,095 | $1,865 |
| West Chester | $978 | $1,589 |
| Norristown | $935 | $1,837 |
| Allentown | $852 | $1,502 |
| Erie | $821 | $1,517 |
| Betdlehem | $798 | $1,405 |
| Pittsburgh | $815 | $1,605 |
| Easton | $809 | $1,418 |
| Reading | $765 | $1,534 |
| Lancaster | $734 | $1,368 |
| Wilkes-Barre | $743 | $1,528 |
FAQs

About Pennsylvania Car Insurance

Q
What is the penalty of driving without insurance in Pennsylvania?
A
If it has been less than 31 days and you don't drive your car then might not get any penalty. But in other cases, you will get into trouble.
If you are driving without buying insurance then you will have to pay a $500 civil penalty with an additional restoration fee. And the license will be suspended for at least 3 months.
If you were driving without carrying your insurance then you will have to pay a fine of $300.
Q
How to find the cheapest car insurance in Pennsylvania?
A
If you want to buy car insurance in Pennsylvania at an affordable rate then you have two options: Look for Discounts OR Compare the Rates from different Companies
As we have mentioned above; car insurance discounts can play an important role in decreasing your premium costs. Moreover, you can ask for more auto insurance discounts from your provider.
Comparing the rates from different companies might provide you with a huge difference in the cost. Every company has its own rules and method of cost calculation. Hence it is advisable to compare the cost of multiple insurance providers before buying. There are two methods to compare the quotes from different insurance carriers: Manual and Automatic.
Either you can make a list of all the top companies in your area and ask for their quotation by calling each. Or you can get an automatic list of top companies and their quotes with RateForce. The team at RateForce works hard to analyse and provide the best quotation to the drivers in each state and city.
Q
Can I register a car without insurance in Pennsylvania?
A
No, you can not register your vehicle without insurance in Pennslyvania. Proof of insurance is required along with other documents like a driver's license, and proof of ownership.
Q
Which company has the cheapest car insurance in Pennsylvania?
A
The Average Cost of Car Insurance in PA is $950 per year. SafeAuto and State Farm provide the cheapest full coverage insurance and SafeAuto provides the cheapest car insurance PA for 6 months.
Q
Do Age and Gender play a role in Car Insurance Rates in Pennsylvania?
A
Yes, Age always plays an important role in the calculation of the final car insurance rates in every state and city. It is believed that the experience of the driver increases with age. Hence drivers with more age are considered as less risky and get lowers insurance premium rates. Here is the list of insurance rates for drivers of different ages to help you understand the impact of age:
| Age | State Minimum | Full Coverage |
| --- | --- | --- |
| 18 | $2,361 | $5,098 |
| 19 | $2,165 | $4,571 |
| 20 | $1,826 | $4,071 |
| 21 | $1,687 | $3,600 |
| 22 | $1,478 | $3,105 |
| 23 | $1,301 | $2,806 |
| 24 | $1,223 | $2,654 |
| 25 | $1,144 | $2,436 |
| 26 | $1,134 | $2,302 |
| 27 | $1,075 | $2,210 |
| 28 | $1,033 | $2,106 |
| 29 | $1,045 | $2,138 |
| 30 | $1,002 | $2,031 |
Some cities have banned gender-based rates calculation but not in Pennsylvania. The female drivers in Pennsylvania get lower insurance rates as compared to the Male driver:
| Gender | State Minimum | Full Coverage |
| --- | --- | --- |
| Female | $978 | $1,892 |
| Male | $998 | $1,915 |
Compare Now and Find Best Cheap Car Insurance Quotes in PA for 2021.
Editorial Guidelines: The above is meant as general information to help you understand the different aspects of auto insurance. This information does not refer to any specific auto insurance policy. Coverages and other features vary between insurers, vary by state, and are not available in all states. References to costs of coverages/repair, average or typical premiums, amounts of losses, deductibles, etc., are indicative and may not apply to your situation. We encourage you to speak to our insurance representative and to read your policy contract to fully understand your coverages.