About GEICO Auto Insurance
GEICO is another one of the largest car insurance companies in our country. The company is popular for its rates that are lower than most national auto insurance companies. Moreover; the customers get two options for car insurance inquiries; online and on-phone. Drivers can either enter their own details on the website or mobile app and get a car insurance quote directly. Or else they can call the agents and get a quote by providing them all the details. GEICO auto insurance company works in 50 states as well as in the District of Columbia(D.C.).

Inexpensive car insurance rates for good drivers.

Drivers with low credit scores can get affordable premiums.

Multiple discount types for all the drivers.

Got voted as the best insurance website and app.

Good ranking for the customer service department.

Drivers with a DUI on record will get the highest insurance rates.

The processing of claims is inconsistent.

Add-on coverage options are not much.

No dedicated agents are available for the drivers.

We generated 12,100,000+ Quotes (...counting), Helping People to Save Money and Time.
GEICO Auto Insurance Reviews and Ratings
BBB: A+
A.M. Best: A++
J.D. Power: 881/1000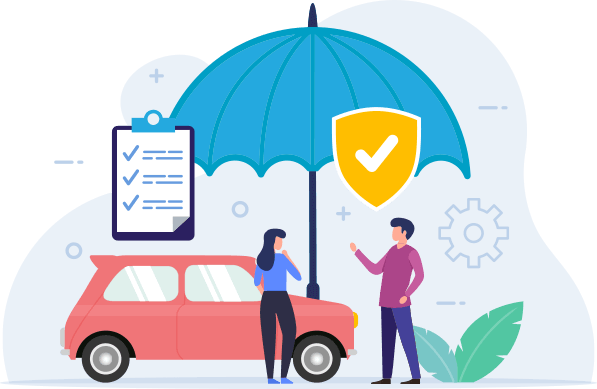 S & P: AA+
NAIC: 0.92
Moody's: AA2
The amazing GEICO car insurance reviews prove that the drivers are happy with the services of Geico insurance company. In December 2018; Moody's investor's services affirmed the financial strength rating on Geico as Aa1. It is clear that the financial strength of the company is rock solid. This is the reason that the drivers are getting their claims on time.
As per the 2021 press release by J.D.Power; Geico insurance company was ranked as no. 4 for overall customer satisfaction ranking. As a result; it is also clear that the company has scored amazing customer reviews.
GEICO Auto Insurance Quotes
| Drivers Age / Ticket Profile | For Good Drivers | With At-fault Ticket | With DUI Ticket | With Speeding Ticket |
| --- | --- | --- | --- | --- |
| 18 and Under | $210 / Month | $295 / Month | $355 / Month | $260 / Month |
| 21 Year Old | $105 / Month | $158 / Month | $183 / Month | $134 / Month |
| 25 Year Old | $90 / Month | $121 / Month | $164 / Month | $106 / Month |
| 45 Year Old | $60 / Month | $91 / Month | $108 / Month | $78 / Month |
| 55 Year Old | $56 / Month | $78 / Month | $96 / Month | $66 / Month |
| 65 Year Old | $50 / Month | $72 / Month | $95 / Month | $61 / Month |
GEICO Auto Insurance Discounts
Special discount for serving in the military
Good student discount for maintaining above average grade points
The inbuilt airbag in the car discount
Discount for Anti-lock brakes
Defensive driving discount
Discount if your car has an anti-theft system
Membership and employee discounts
Discount for bundling other insurances with auto insurance
Discount for daytime running lights
New vehicle discount
Discount for completing the driver's education course
Good driver discount for drivers with a clean record
Discount for consistent seatbelt usage
Emergency deployment discount
Discount for federal employee
Discount for buying a policy for more than one vehicle
GEICO Auto Insurance Coverages
Check out all the Geico auto insurance coverages that you can add on to your existing policy for more coverage:
Mechanical Breakdown Insurance
| State / Coverage | Minimal Liability | Basic Premium | Full Premium |
| --- | --- | --- | --- |
| Georgia | $63 / Month | $148 / Month | $195 / Month |
| Michigan | $105 / Month | $245 / Month | $304 / Month |
| Florida | $55 / Month | $120 / Month | $135 / Month |
| California | $73 / Month | $150 / Month | $198 / Month |
| Texas | $90 / Month | $188 / Month | $274 / Month |
GEICO auto insurance company provides multiple coverage types for its consumers. The company has all the types of coverages that are available in all the national insurance carriers. The most popular coverage type of GEICO is its Mechanical breakdown coverage. Where the company will cover the cost of repairing all the mechanical parts of the car that are less than 15 months old and less than 15,000 miles driven.
GEICO Insurance Complaints &
Customer Satisfaction
Customer Claims Satisfaction
Geico is in the eight position of the best auto insurance company by J.D. Power. We all know that J.D. Power provides customer satisfaction rates for every company. Hence it is clear that GEICO is providing customer satisfaction to the drivers. This is the major reason that the company is a leading choice among the drivers.
The claims satisfaction ratio of Geico is higher than most of the competitors like Allstate insurance company. Allstate has a customer satisfaction rate of 870 while GEICO's score is 881.
Consumer Complaints
The drivers from all over the country have different complaints about the company. The major complaints are about the claim process. Drivers are happy with the customer support but they are not happy with the process of filing and getting the claim money.
The National Association of Insurance Commissioners (NAIC) has declared the average consumer complaints median as 1. GEICO's score by NAIC is 0.92. It is clear that even if the claim filing process is not up to the mark, the number of complaints is few against GEICO.
Other GEICO Insurance Product Options
Homeowner's
Renters
Condo
Motorcycle/ATV
Business Owner's
Life
Boat
Travel
Landlord
Roadside
GEICO Auto Insurance
FAQs
Q
Is GEICO the cheapest car insurance company?
A
GEICO is the cheapest car insurance company for some drivers. Each driver has its own profile. Insurance companies always check the profile of the driver and then decide on the insurance quote. Hence the company can be cheapest for some drivers and expensive for others, it depends on a lot of factors.
Q
Which is the best way to contact GEICO auto insurance company?
A
You can log in to the mobile application or the website and fill the contact us form. Or you can call the company at 800-424-3426 for customer service or 800-841-3000 for claims.
Q
Why are GEICO car insurance quotes so cheap?
A
GEICO auto insurance company is not cheap for every driver. But yes, it is cheap for most of the drivers. The major reason for this is the number of discounts provided by the company. Drivers can combine multiple discounts and then get lower insurance quotes.
Q
How much is the Geico full coverage car insurance quote?
A
The cost of car insurance depends on a lot of factors and is different for almost every driver. The state or city of the driver, the age of the driver, the car type, car model everything impacts the insurance cost. The average car insurance cost of Geico is $180 per month and $2160 per year.
Q
Does GEICO provide paying in full or advance payment discount?
A
Paying in full or advance payment discount is not an official discount type by Geico. But the company charges installment fees if the driver selects multiple payment plans. Hence it is better to go for a full-time payment option to save some extra money.
Find best cheap auto insurance coverage as per your needs.
Editorial Guidelines: The above content is meant as general information to help you understand the different aspects of auto insurance. This information does not refer to any specific auto insurance policy. Coverages and other features vary between insurers, vary by state, and are not available in all states. References to costs of coverages/repair, average or typical premiums, amounts of losses, deductibles, etc., are indicative and may not apply to your situation. We encourage you to speak to our insurance representative and to read your policy contract to fully understand your coverages.