Companies
Name
Quotes
Direct Auto
$43

/mo

Progressive
$47

/mo

Allstate
$56

/mo

State Farm
$121

/mo
Cheap Colorado Car Insurance Rates
The expert team at Rateforce works hard to calculate and deliver the cheapest rates to our customers. We understand the need for affordable insurance rates for everyone in Colorado and hence we have curated the below list. Here's the list of top companies in Colorado that provides the cheapest car insurance rates to all the drivers:
Top Colorado Auto Insurance Companies
There is a huge difference between best and cheap rates. And we at Rateforce understand that cheap car insurance rates are not for everyone. There are a lot of factors that we check like the reliability of the company, health, and quality of the company. After analyzing all these factors our team creates the final list. Hence we have curated the below list that provides the best car insurance companies in CO to everyone:
Companies
Name
Quotes
Travelers
$91

/mo

Nationwide
$102

/mo

State Farm
$121

/mo

The General Insurance
$152

/mo
How to Get Best Car Insurance Coverage Policy In Colorado?
Minimum Car Insurance Requirements in CO
Every state has its own legal minimum insurance coverage requirements that a driver needs to drive any vehicle. These requirements vary for each state. Below are the minimum auto insurance requirements in Colorado: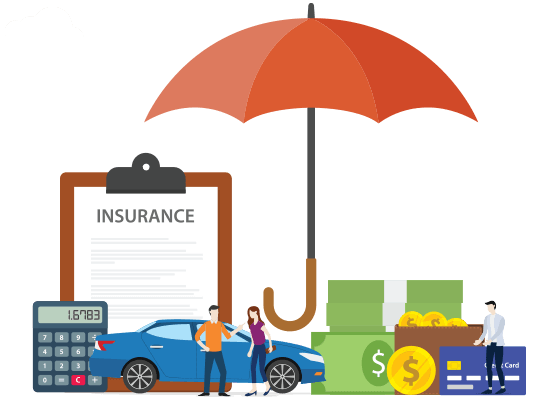 Bodily Injury Liability(BIL):
When you are at fault in an accident then you will have to pay for the medical expenses of the other driver. Bodily Injury Liability Coverage is for that medical expenses. In Colorado; the minimum liability for bodily injury are:
$25,000 per person for all the medical expenses or death of the driver and $50,000 per person per accident for all the passengers in the vehicle
Property Damage Liability(PDL):
Property damage is necessary when you have damaged the house, car, fence, garden, or any other property of another person. All the expenses to repair the damages caused to the personal property of the victim have to be covered by the at-fault driver. The property damage liability is $15,000 per accident in Colorado.
Cheap Minimum Liability Car Insurance Companies in Colorado
Here is the list of best companies that provide the lowest average rates to drivers for state minimum insurance coverage in Colorado:
Progressive: $50 per month
Direct Auto Insurance: $59 per month
Allstate: $68 per month
StateFarm: $76 per month
GEICO: $83 per month
Cheapest Basic Full Insurance Coverage in Colorado
Here is the list of top insurance companies that provide the lowest average rates to drivers for our unique basic full insurance coverage in CO. It includes collision and comprehensive auto insurance coverage apart from state minimum auto insurance coverage.
GEICO: $154 per month
Auto Owners: $166 per month
Progressive: $172 per month
SafeAuto: $186 per month
Allstate: $199 per month
Cheap Premium Full Insurance Coverage in Colorado
Here is the list of top auto insurance carriers that provide the cheapest full coverage in CO. This covers all coverages as defined by state law in full coverage requirements with maximum benefits. Drivers with a clean driving record may consider this option.
GEICO: $199 per month
Auto Owners: $212 per month
Progressive: $234 per month
SafeAuto: $247 per month
Allstate: $262 per month
Other Types of Insurance Coverage in Colorado:
After the minimum requirements, there are other types of insurance that are not legally necessary but highly recommended. This insurance will cover you from all the least expected expenses, some of these are:
Collision Coverage:
Collision insurance provides coverage from situations where your car collides with another object, car, or pedestrian. In such situations, your insurance company will be responsible to cover all the damage repair expenses of your car.
Uninsured and Underinsured Motorist:
This type of insurance is very important in states like Colorado where uninsured and underinsured motorists' liability is not compulsory. If the at-fault driver does not have enough insurance to cover your expenses then your insurance carrier will cover it for you.
Comprehensive Coverage:
Comprehensive insurance is required to protect your vehicle in case of natural and man-made disasters. For situations like floods, thunderstorms, vandalism, or any other calamity. You will get coverage to repair your vehicles damaged from these calamities.
Roadside Assistance:
If your vehicle breaks down in the middle of nowhere then your insurance company will assist. You will get instant help to repair or towing your vehicle without any charges. All the expenses to repair the car will be covered by the carrier.
Medical/Funeral Services:
This insurance coverage will be helpful in other medical services like calling an ambulance, dead body transportation, etc. Also, this will provide insurance coverage for all the funeral services of the driver.
Vehicle Loan / Lease Payoff:
This insurance type is necessary for situations where your vehicle gets into a total loss. Then your insurance carrier will provide coverage for your vehicle loan or lease. The coverage is equal to the loan amount pending or the pending lease amount on your vehicle at that time.
Rental Car Reimbursement:
You can rent another car while your own is in repair by the insurance carrier. The expenses to rent the car will be covered by the insurance company.
Car Insurance Quotes In Colorado Based on Ticket Profile
There are a lot of factors that affect the final cost of car insurance. These factors then create different ticket profiles and each profile has a different range of insurance costs. Here we have the list of the top 5 ticket profiles along with their quotations from different insurance companies:
Cheap Car Insurance for Good Drivers
Drivers with a good experience on the road and a clean driving record are called good drivers. Good drivers always get lower insurance rates as compared to the others.
The major reason is, insurance companies consider good drivers as responsible and less risky. As a result, they provide less insurance rates.
Below are the rates from the top 4 companies that provide affordable rates to good drivers:
Insurance Company
Quote
Direct Auto
$43

/mo

Progressive
$49

/mo

Allstate
$56

/mo

State Farm
$63

/mo
Insurance Company
Quote
State Farm
$90

/mo

Allstate
$160

/mo

GEICO
$143

/mo

Progressive
$187

/mo

Esurance
$152

/mo
Car Insurance Rates for Drivers with DUI
Driving under the influence is not only dangerous but also a serious offense. Drivers with DUI are considered risky by the insurance companies and they get higher insurance premiums. The reason behind this is; risky drivers usually file more claims as compared to the other drivers. Hence; the insurance premium is higher.
Drivers with DUI can try getting out of the penalty but the process of application is complex and long. That includes; court fines, SR-22 application, and reinstatement fees. As a result; the drivers try to get the cheapest insurance quotes from their carriers. Below is the list of top companies that provides the most affordable car insurance to drivers with DUI:
Car Insurance Quotes for Drivers with an At-Fault Accident
Once a driver gets an at-fault accident on the record, there are high chances of an increase in insurance rates. In most of the states, the drivers with at-fault accidents get the highest insurance quotation. The reason is; most of the companies cancel the policy of such drivers as they are considered as the riskiest ones. The rest of the insurance companies do not want to take the risk hence they increase the insurance premium.
The driver with at-fault history can apply for accident forgiveness. But the acceptance and rejection of it depend on the insurance company. Here are the top 4 insurance carriers that provide cheap CO car insurance to drivers with at-fault history.
Insurance Company
Quote
State Farm
$102

/mo

Progressive
$143

/mo

American Family
$152

/mo

Allstate
$170

/mo
Insurance Company
Quote
GEICO
$130

/mo

USAA
$122

/mo

Progressive
$155

/mo

Allstate
$180

/mo
Affordable Car Insurance for Speeding Drivers
Here is an old but meaningful quote: "Speeding thrills but kills". A speedy vehicle can get into an accident at any time. As a result, the insurance companies consider these drivers as risky ones. The insurance companies know that the drivers with speeding records file for more claims as compared to responsible drivers.
Whenever an officer catches a driver while speeding they add certain points on the driving record. These points are dependent on the speed of the driver at that time. Later on, the insurance company decides the increase in premium based on these points. Below are the top 4 companies that provide cheap car insurance Colorado rates to drivers with the speeding record:
Young and new drivers always get the highest insurance premium rates as compared to experienced drivers. As per the insurance companies; the young drivers have less experience and are riskier.
In Colorado; drivers under 40 years of age are considered young drivers and they get the highest insurance rates. Drivers under 25 years of age can apply for a student discount. The student should have an average grade of B or higher. Below is the list of top companies that provides the cheapest car insurance rates for young drivers:
Insurance Company
Quote
Progressive
$73

/mo

Allstate
$85

/mo

GEICO
$88

/mo

USAA
$64

/mo
Insurance Company
Quote
SafeAuto
$158

/mo

Nationwide
$177

/mo

Liberty Mutual
$199

/mo

Progressive
$216

/mo

GEICO
$238

/mo
Car Insurance for Drivers with Poor Credit Score
Even though checking the credit history of the driver to provide car insurance cost is banned in some states. But the companies still consider it directly or indirectly. As per most auto insurance carriers; drivers with poor credit are less reliable and irresponsible. Hence the car insurance premium for such drivers increases.
If you are looking for affordable auto insurance rates for drivers with a bad credit score then here are the top companies in Colorado:
Which Auto Insurance Discounts are available in Colorado?
If you want cheap car insurance in Colorado then the best option is to ask for discounts from your insurance company. You can check the different types of auto insurance discounts online to understand which apply to your profile.
Below are four discount types you can ask from your insurance carrier in Colorado:
Upfront Payment Discount:
Insurance companies always prefer advance payment from the clients. As a result; they promote the upfront payment option. For the promotion, they reward the drivers who pay the annual insurance premium in advance. So If you can afford to pay the annual car insurance premium in advance then don't forget to negotiate for a discount.
Policy Clubbing Discount:
This type of discount is also known as a multi-policy discount. If you need insurance like life insurance or house owner insurance then your carrier will convince you to buy from them. As a result, they will provide good discounts to club your multiple policies with your car insurance discount.
Multiple Vehicles Discount:
Do you have more than one vehicle and you need insurance for all of them? Then this discount will help you save hundreds of dollars. Your insurance company will provide you good discounted insurance rates for all the vehicles you own.
Safety Features Discount:
Advanced safety features will save the driver and passengers in case of accidents. Even some of them reduce the chances of getting into an accident. As a result; the insurance company rewards the vehicles equipped with safety features with discounts. So if your vehicle has features like an automatic seat belt, anti-lock brakes, or anti-theft alarms.
SR-22 Car Insurance in Colorado State
SR-22 insurance is required when the license of the driver is suspended. The reason for suspension of the license can be DUI, too many Law violations, or speeding tickets. The SR-22 certificate is proof that the driver is financially stable to cover the minimum insurance coverage of the state.
Below is the Average Cost of Car Insurance in CO for drivers with SR-22s:
| High-risk Rating Factor | Average Annual Rate | Increase vs. Clean Record |
| --- | --- | --- |
| No citations | $1,721 | — |
| At-fault crash (>$2,000) | $2,523 | $789 |
| Speeding (21-25 mph > limit) | $2,162 | $421 |
| Reckless driving | $2,321 | $621 |
| Racing | $2,443 | $712 |
| Hit-and-run | $2,456 | $705 |
| DUI/DWI | $2,321 | $581 |
Auto Insurance Rates by City in Colorado
The location of the driver plays a major role in the calculation of car insurance cost. Every state has different insurance rates based on factors like crime rates, accident rates, and even environmental conditions.
Here is the list of top cities of Colorado along with the average annual premium:
| City | Average Annual Cost |
| --- | --- |
| Saint Louis | $2,529 |
| Florissant | $2,043 |
| University City | $2,032 |
| Mehlville | $2,013 |
| Kansas City | $1,976 |
| Independence | $1,861 |
| Chesterfield | $1,851 |
| Wildwood | $1,856 |
| Ballwin | $1,841 |
| Liberty | $1,749 |
| Lee's Summit | $1,743 |
FAQs

About Car Insurance In Colorado

Q
How to get the cheapest car insurance rates in Colorado?
A
There are two ways to get cheap insurance rates in Colorado:
Ask for Discounts: Check yourself how many discounts you can get and then negotiate with your insurance carrier.
Compare as many companies as you can: Get rates from different companies in your area and then compare the rates from all these companies. This will help you to understand what other companies are charging for your profile.
Q
How to compare CO car insurance quotes from different companies?
A
RateForce experts have the most advanced software to get and compare car insurance quotes from different companies in your area. All you have to do is provide the basic details about your profile and we will provide you the list.
Q
Is Colorado a No-Fault State?
A
No, Colorado is not a no-fault state. Colorado is an at-fault state. You can sue the other driver if they decline to pay for your repair or medical expenses.
Q
What are the penalties for driving without insurance in Colorado?
A
Driving without insurance in Colorado can result in high penalties. Four points will be added to the driving license. Moreover; the $500 fine for the first time and then it will increase with time. Plus, the license will be suspended until the driver submits the proof of buying insurance.
Q
Which city has the cheapest car insurance in Colorado?
A
Taos city has the cheapest car insurance rates in Colorado. The average annual cost to get car insurance in Colorado is $ 2159.
Compare Cheap Car Insurance Quotes in Colorado now!
Editorial Guidelines: The above is meant as general information to help you understand the different aspects of auto insurance. This information does not refer to any specific auto insurance policy. Coverages and other features vary between insurers, vary by state, and are not available in all states. References to costs of coverages/repair, average or typical premiums, amounts of losses, deductibles, etc., are indicative and may not apply to your situation. We encourage you to speak to our insurance representative and to read your policy contract to fully understand your coverages.