Companies
Quotes
Mercury
$17

/mo

Travelers
$24

/mo

Bridger
$34

/mo

SafeAuto
$175

/mo
California Car Insurance Quotes
Finding the perfect car insurance company in California might be difficult because of the complex requirements and updates in the insurance laws. Every company calculates the rates based on multiple factors. Hence; it is important to check your requirements first and then compare rates from different insurance companies.
Get Cheap Car Insurance for California
If you want the best car insurance rates in California then you are in the right place. We have an objective to get you the perfect policy as per your requirement. We will provide you the best car insurance quotes from the top agencies in California. All you have to do is answer some quick questions and we will manage the rest.
Companies
Quotes
Mercury
$17

/mo

Travelers
$24

/mo

Bridger
$34

/mo

SafeAuto
$175

/mo
How to find Best Car Insurance Rates In California
What Are The Minimum California Car Insurance Coverage Requirements
There's no doubt that everyone has a unique car insurance need, but there is some compulsory coverage that every state government finalizes. California has its requirements when it comes to minimum car insurance coverage.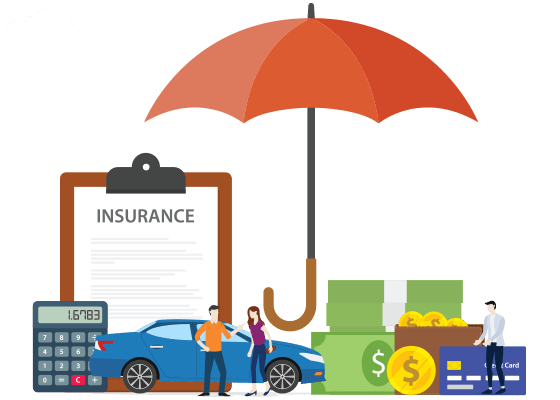 Bodily Injury Liability Coverage Per Person:
It requires rivers to cover a minimum of $15,000 per person.
Bodily Injury Liability Coverage Per Accident:
The minimum coverage of $30,000 per accident is compulsory in California.
Property Damage Liability Coverage:
A driver in California needs to have a minimum of $5000 coverage for the property damage. While other states require compulsory coverage of Residual Liability or Underinsured/ Uninsured Liability; California just requires these two as minimum coverage.
Some Optional Insurance Auto Insurance Coverage In California
Comprehensive Coverage:
You need comprehensive coverage to cover your repair cost in case your car got caught in a storm or vandalism.
Collision Coverage:
Collision coverage is required when your vehicle collides with a pedestrian, another vehicle, or any object like a pole or fence.
Roadside Assistance:
If you ever got stuck in a deserted place maybe because of a flat tire or no gas; then you'll need roadside assistance coverage.
Loan/Lease payoff:
If your vehicle goes under total loss in an accident then the insurance agency in California will pay you an extra sum to help you pay off the remaining debt on your vehicle.
Medical and Funeral Services Coverage:
Some insurance agencies provide coverage for medical services like ambulance charges, dead body transportation, funeral services, etc.
Uninsured/ Underinsured Motorist:
If you get into an accident with another driver and that driver does not have the insurance to cover your expenses then your insurance agency will come up.
Car Insurance Discounts in California
In 2020, insurance commissioner Ricardo Lara ordered premium relief to auto insurance policyholders who are affected by COVID 19 pandemic. This step led to $1.2 billion premium savings for the drivers in California state.
This was a huge relief for the drivers but do you think it was enough? The average car insurance rate in California is still too high as compared to the average earning. This proves the need for more discounts and the following are four types of discounts drivers can ask for:
California's Low-Cost Auto Insurance Program (CLCA)
The government of California has a CLCA program to help drivers who fall below the poverty line. The eligible drivers get Government-sponsored auto insurance for two vehicles per person. It is important to note that the driver must have a clean driving record and the vehicle's value should be less than $25,000.
Multi-Policy Discount:
This type of car insurance discount is also known as Bundling Discount. Bundling means buying more than one policy from the same insurance provider. A bundling discount is applicable if you are a driver and a homeowner. When you decide to buy homeowners insurance from the same insurance company you get good discounts on both policies.
Mature Driver Improvement Course Discount:
All the drivers older than 55 years of age are eligible for this car insurance discount. California auto insurance laws promote safe driving by providing discounts to the senior citizens who have cleared this course. The course is to inform the senior drivers about traffic law updates, defensive drivers, and the effects of some medications.
Advance Billing and Payment:
If the driver opts for the advance payment of the premium the insurance company will provide good discounts. Along with that, the insurance carrier will give discounts on online payments, paperless transactions, and the selection of automatic payments. These things save a lot of time for the insurance provider and hence to reward this the driver gets good discounts.
Average Cost of Car Insurance in CA by Ticket Profile
Every insurance agency in California calculated the average cost of a car insurance policy based on certain factors. Some of these factors are credit score, last insurance type, and company, driving history, employment history, marital status, and military service. Following are the different profiles and how different factors affect your insurance rates:
Cheapest Car Insurance California for Drivers with DUI
In California; if you get DUI then your insurance rates are going to be higher than ever. Most of the companies follow the California Insurance Code 1861.025 and take 10 years to lower the insurance rates again. For the drivers with DUI, the only best option is to keep looking for the discounts and compare the rates of as many agencies as you can. As per the comparison, Mercury Insurance company provides the lowest rates of $49 per month in California.
Insurance Company
Quote
Mercury
$49

/mo

Travelers
$68

/mo

Bridger
$102

/mo
Insurance Company
Quote
Mercury
$28

/mo

Travelers
$42

/mo

Bridger
$55

/mo
Cheap CA Car Insurance for Drivers with "At-Fault" Accident History
Once you have an "At-fault" record on your license you also enter the "high-risk" drivers category. It doesn't matter how small the accident was, your car insurance premium rates will increase to a great amount. You can try to pay for accident forgiveness and if you are lucky then you'll get the clean chit. If your forgiveness is rejected then you will have to look for discounts.
Best Car Insurance Rates in California for Speeding Ticket Drivers
Speeding tickets are also proved to be dangerous on your insurance rates. Every time you are caught speeding you will get points on your license the points will be based on the number of times you got caught and the mph speed at that time. The higher the speeding points on your tickets, the higher will be your premium. The best option? Compare, compare, compare all the insurance agencies, and get the lowest prices.
Insurance Company
Quote
Mercury
$23

/mo

Travelers
$32

/mo

Bridger
$42

/mo
Insurance Company
Quote
Mercury
$42

/mo

Travelers
$60

/mo

Bridger
$83

/mo
Cheap California Car Insurance for New Drivers
New or young drivers are always considered as the "highest-risk" types by every insurance company. In California, most of the companies consider drivers under 20 years as young drivers. California has special driving instructions for new drivers like passenger age restriction, curfews, electronic device limitations, etc. Still, New or Young drivers always get higher premium returns. Mercury Insurance provides the lowest insurance rates to new drivers starting from $42 per month.
Cheapest Car Insurance in California for Good Drivers
For drivers which have clean driving records and a good long experience on road; they get amazing discounts and lower rates. The insurance agencies check the records of the driver for a minimum of ten years and if the driver does not have any traffic tickets or accidents in the records then he will be declared as a good driver. Mercury Insurance provides the cheapest insurance rates for good drivers starting from $17 per month.
Insurance Company
Quote
Mercury
$17

/mo

Travelers
$24

/mo

Bridger
$34

/mo
Insurance Company
Quote
Mercury
$14

/mo

Travelers
$20

/mo

Bridger
$29

/mo
Cheap Car Insurance Rates in California for Good Students
Good students discounts are quite popular in California. Insurance agencies give good student discounts to the students who have an average of B or higher grade. The student must be below 25 years of age. This can give the student, discount of up to 25% on the insurance term.
SR-22 Insurance in California
If you have got a California DMV suspension or revocation then you need SR-22 insurance to reinstate your license. There are companies which deny SR-22 for their customers. But you can contact big companies like Dairyland, Affirmative, 21st-century insurance, and Farmers insurance. These companies might cost you higher but you still have the option to compare and buy. Compare all the prices on the Rateforce website to check which insurance agency provides the cheapest SR-22 in California.
Auto Insurance Rates by City in California
Wondering what the cost will be to get car insurance in your city? Every city has its laws and every company has its method to calculate the premium rates. The average rate will help you to get an idea of the approximate amount you will have to pay for insurance. Hence; below is the list of top California cities.
City Name
Average Premium
Los Angeles
$165

/mo

San Diego
$148

/mo

San Francisco
$142

/mo

San Jose
$89.80

/mo

Oakland
$124

/mo

Sacramento
$121

/mo

Long Beach
$171

/mo

Anaheim
$161

/mo

Fresno
$156

/mo
FAQs

– California Car Insurance

Q
In California, the insurance follows the car or the driver?
A
In most cases, car insurance follows the car and not the driver. PIP and MedPay follow the driver while bodily injury, collision, comprehensive and property damage follow the car. If a person borrows your car and gets into an accident then you don't have to pay for their medical expenses. But you might have to pay for the damage and injuries of the other driver.
Q
What is the Grace Period For California's Car Insurance?
A
In California, If you need new car insurance then you will get a 30 days grace period. If you already have one of your existing or previous vehicles and you want to transfer it then you will get 45 days of the grace period.
Q
How much is the weightage of credit score on Insurance rates in California?
A
Insurance agencies use a low credit score as a factor to increase or reject your insurance premium. But, California's government has prohibited the insurance agencies to hold your credit score as a demerit against you.
Q
How to get the cheapest car insurance quote in California?
A
California has multiple insurance agencies. Each Agency has its way to calculate the average cost of your insurance premium. The best way to know which company provides the cheapest quote is to compare them. Instead of manually searching for each company Rateforce will provide you the quotes from all the top cat insurance agencies in California.
Q
How Much Does Car Insurance Cost In Top California Cities?
A
California has multiple insurance agencies. Each Agency has its way to calculate the average cost of your insurance premium. The best way to know which company provides the cheapest quote is to compare them. Instead of manually searching for each company Rateforce will provide you the quotes from all the top cat insurance agencies in California.
Los Angeles: $165 per Month
San Diego: $148 per Month
San Francisco: $142 per Month
San Jose: $89.80 per Month
Oakland: $124 per Month
Sacramento: $121 per Month
Long Beach: $171 per Month
Compare Top Auto Insurance Carriers Rates in California. Get best Discounts on Quotes.