Companies
Name
Quotes
Gainsco
$95

/mo

SafeAuto
$102

/mo

The General Insurance
$112

/mo
Cheapest Car Insurance in Texas
Texas is the second-largest state in the USA. With some most populated cities like Dallas, Houston, and San Antonio. The state has quite a few national highways and state roads that pass through farmlands and cities. If you are looking for Car Insurance for Texas, then we have the best deals for you. For starters; check out the top 3 cheapest insurance carriers in Texas for 2021.
Best Car Insurance Companies in TX
Texas is a huge state, and it has innumerable insurance providers; our goal is to help you find the best. The average car insurance rate in Texas is 26.8 percent, the biggest reason is the higher speed limit of the state. Higher speed limits result in more accidents and higher liability payout. Here is the list of Top Companies and their best car insurance rates in Texas:
Companies
Name
Quotes
Gainsco
$95

/mo

SafeAuto
$102

/mo

The General Insurance
$112

/mo

Elephant Insurance
$120

/mo
How to find the best Car Insurance Coverage Policy In Texas?
Minimum Texas Car Insurance Requirements
Each state follows its auto insurance regulations and hence minimum coverage requirements vary for each state. Below are the minimum car insurance requirements for Texas drivers: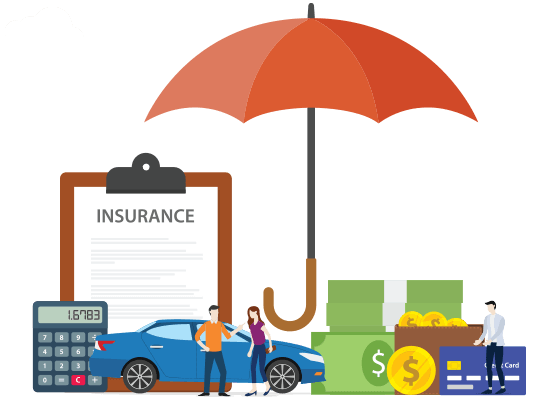 Cheap Minimum Liability Car Insurance Companies in Texas
Here is the list of best companies that provide the lowest average rates to drivers for state minimum insurance coverage in Texas:
GAINSCO: $96 per month
SafeAuto: $108 per month
GEICO: $114 per month
The General Insurance: $125 per month
Allstate: $136 per month
Cheap Basic Full Insurance Coverage in Texas
Here is the list of top insurance companies that provide the lowest average rates to drivers for our unique basic full insurance coverage in TX. It includes collision and comprehensive auto insurance coverage apart from state minimum auto insurance coverage.
Mercury: $163 per month
Nationwide: $178 per month
State Auto: $191 per month
Progressive: $207 per month
StateFarm: $214 per month
Cheapest Premium Full Insurance Coverage in Texas
Here is the list of top auto insurance carriers that provide the cheapest full coverage in TX. This covers all coverages as defined by state law in full coverage requirements with maximum benefits. Drivers with a clean driving record may consider this option.
Mercury: $195 per month
Nationwide: $210 per month
State Auto: $235 per month
Progressive: $250 per month
StateFarm: $270 per month
Additional Insurance Coverage in Texas:
Uninsured/Underinsured Motorist Bodily Injury:
UMBI coverage is beneficial when you get into an accident, and the other driver does not have insurance. In that case, your insurance company will cover the entire medical bills, lost wages, and suffering.
Special Equipment Coverage:
This is for those drivers who like to add custom parts to their vehicles like stereo systems or rims. The insurance carrier will cover the cost of repair or replacement of your special equipment.
Uninsured/Underinsured Motorist Property Damage:
This is beneficial when your car is hit by a driver who does not have enough insurance to cover your car repair cost. In that case, your insurance company will bear the repair cost of your vehicle.
Limited Mexico coverage:
The republic of Mexico considers road accidents as a criminal offense and has certain strict laws for it. If the driver is traveling to Mexico or visits Mexico too often, then this coverage becomes a bit important.
Rental Reimbursement Coverage:
Rental Reimbursement is a type of coverage you get when your car is under repair and you have to rent another car. Your insurance provider will cover the cost of renting the car until your car is all repaired and ready for the road.
Medical Payments Coverage:
As the personal injury is not a compulsory requirement in Texas; the driver might want to consider this coverage. Medical Payment coverage pays the medical bills for the driver in case of an accident.
Collision Coverage:
Collision coverage is required when the vehicle is damaged in an accident, regardless of who was at fault. The insurance carrier will cover the cost of repair and replacement of your vehicle.
Comprehensive Coverage:
This one is to cover the cost of damage to your car in every other case than collision. If your car got stolen or damaged by fire, flood, or vandalism then your insurance company will cover the damages.
Roadside Assistance Coverage:
This coverage is to help the driver when the car breaks down in a deserted place. The company sends help to tow the car, replace the flat tire or battery jump-start. Most of the time; the insurance company provides coverage up to $100 per incident.
Car Insurance Quotes In Texas Based on Ticket Profile
Every company has its method of calculating car insurance rates in Texas. But certain factors affect the pricing like the marital status of the driver or the driving records. So following are the major ticket profiles that can affect your car insurance quote in Texas:
Car Insurance for Speeding Drivers
Once a driver got a speeding ticket on the record, the company adds the name of the driver into the risky customers' list. The risky drivers always get higher insurance premium rates as compared to others. Below are some companies which might provide the cheapest car insurance in Texas for speeding drivers:
Insurance Company
Quote
GAINSCO
$119

/mo

SafeAuto
$128

/mo

The General Insurance
$140

/mo
Car Insurance for Driver with At-Fault Records
In 2018; as per the report by TxDOT Houston has reported the highest number of crashes: 64,000. When a driver gets even one small at-fault accident on the record, the insurance company increases the premium rates. Here is the list of companies where you can get cheap car insurance in Texas if you have an at-fault history:
Cheap TX Car Insurance for Good Drivers
Just like risky drivers, Good drivers are also there in the auto laws of Texas. A driver with a clean driving record without any violation or accident gets on the list. A good driver gets a good discount on the insurance premium every year. Check the list of top three insurance carriers that can provide cheap insurance premium rates to the good drivers:
Insurance Company
Quote
Gainsco
$95

/mo

SafeAuto
$102

/mo

Elephant Insurance
$120

/mo
Insurance Company
Quote
Gainsco
$190

/mo

SafeAuto
$204

/mo

The General Insurance
$224

/mo
Cheap Car Insurance in Texas for Drivers With DUI
The drivers with DUI get very high car insurance premium rates in Texas. Driving under the Influence is considered as a big crime. When a driver gets caught with DUI; the insurance company will be notified, and the company decides on how much the amount should be increased. Below are some companies that might help you get low car insurance rates:
Cheap car insurance in TX for Young Drivers
21 years old drivers are considered young and risky drivers. As a result, they get usually high insurance rates as compared to more experienced drivers. Texas has banned companies to consider gender, credit score, and education level as a factor to calculate insurance premiums. This somehow benefits the inexperienced drivers. Below are some insurance companies that provide cheap insurance quotes to young drivers:
Insurance Company
Quote
Gainsco
$143

/mo

The General Insurance
$168

/mo

Elephant Insurance
$180

/mo
Insurance Company
Quote
Liberty Mutual
$204

/mo

Nationwide
$232

/mo

StateFarm
$265

/mo

Progressive
$297

/mo

Allstate
$316

/mo
Cheap Car Insurance in TX for Drivers with Poor Credit Score
Even though checking the credit history of the driver to provide car insurance cost is banned in some states. But the companies still consider it directly or indirectly. As per most auto insurance carriers; drivers with poor credit are less reliable and irresponsible. Hence the car insurance premium for such drivers increases.
If you are looking for affordable auto insurance rates for drivers with a bad credit score then here are the top companies in Texas:
Car Insurance Discounts For Texas Drivers
The car insurance rates in Texas are higher than the average car insurance rates in US. The reason behind this is the 3 largest cities of the USA are in Texas; Houston, San Antonio, and Dallas. As a result, the drivers in Texas need discounts to afford car insurance. Here are four discounts that can help the drivers in Texas to save some money:
Defensive Driving Course Discounts:
Drivers in Texas can save more than 5 percent on their Insurance premium with this discount. Drivers who have completed the defensive driving course as a principal driver along with the driving safety course are eligible. The driving safety course has to be approved by any of the Texas Education Agency. After completion of the course, the driver has to submit the proof to the company to get the discount.
Bundling Discounts:
If a drive is also a homeowner, then bundling the discount of the car and the house can provide a good discount. The company will provide a good amount to push the customer to buy multiple policies from the company. Even though the discount rates are dependent on the insurance provider; the discount is guaranteed. The driver always ends up paying a lesser insurance premium for both the assets.
Advance Payment Discounts:
The insurance company wants to promote advance payment models and as a result, provides good discounts. When a driver chooses to pay the yearly premium upfront, the company always rewards it with good discount rates. The driver is saving the time and efforts of the company in taking monthly payment updates. Also, the driver will be free of paying a premium for the rest of the year.
Safety Feature Discounts:
Safety features like automatic seat belts and anti-theft alarms save the driver and the car. Which as a result saves the company's money. Hence; if your car is equipped with the latest safety features, then the insurance company will give good discounts. The more safety features your car has, the lower will be the premium amount.
SR-22 Auto Insurance in the Texas
It is a crime in Texas if a driver is caught with DUI ( Driving under the influence) or DWI (Driving while intoxicated. Most of the time the license of the driver got canceled by the authorities and the insurance company got notified.
In such cases; the driver needs an SR-22 form. An SR-22 form is required to prove that the driver carries the insurance liability for the car. An SR-22 insurance policy is always higher as compared to other policies.
To understand the impact of SR-22 in a better way; check out the table below with the rates of top insurance providers in Texas:
| Company | Annual average premium | Annual average premium with SR-22 and DUI | Percent Increase |
| --- | --- | --- | --- |
| Gainsco | $1,140 | $1,949 | 71.31% |
| SafeAuto | $1,224 | $1,971 | 61.10% |
| The General Insurance | $1,344 | $2,352 | 75.15% |
| Allstate | $1,669 | $3,196 | 91.49% |
Auto Insurance Rates by City in Texas
Each city has its own auto rules and regulations; as a result, the rate of car insurance changes in every state. So are you searching for the rates of auto insurance in your city? Then below is the list of top 10 texas cities with the average cost of car insurance:
City Name
Average Premium
Houston
$131

/mo

San Antonio
$120

/mo

Dallas
$126

/mo

Austin
$115

/mo

Fort Worth
$114

/mo

El Paso
$121

/mo

Arlington
$128

/mo

Corpus Christi
$110

/mo

Plano
$111

/mo

Laredo
$120

/mo
FAQs

About Texas Auto Insurance

Q
How many previous years' records do insurance companies check for violations in Texas?
A
In Texas, the insurance companies usually check around 3 years for driving records to check the violations and history.
Q
How can I get the cheapest car insurance rates in Texas?
A
The best way to get cheap car insurance rates in Texas is by comparing the prices. Shopping around and comparing the quotes from different companies will provide better rates. Along with that, the driver can ask for discounts. We have mentioned the top 4 discounts which any driver in Texas state can apply.
Q
What is considered full coverage insurance in Texas?
A
In Texas state; Full coverage insurance means minimum required coverage ( bodily injury and property injury liability) along with the following:
Collision coverage
Comprehensive coverage
Uninsured/underinsured motorist coverage
Medical payments coverage and many more.
There are different definitions and requirements for Full coverage car insurance in every company in Texas.
Q
Why is car insurance expensive in Texas?
A
Every year the insurance companies in Texas analyze the previous year's claims to finalize new rates. Texas has some big cities in the country and it has higher speed limits which lead to more road accidents. Every year the insurance claims are higher in texas and the amount of claims is also high. As a result, to earn more profit, the companies raise their insurance premium rates.
Q
Does every state of the USA have a different car insurance rate?
A
Yes. The car insurance rates in Texas are not the same as in California or Georgia. Each state has its own rules and regulations and follows different methods to calculate the insurance rates. Hence; it is always recommended to check the car insurance rates by states before buying your vehicle.
Have a clean driving records? Compare and Get Discount on Insurance Quotes.
Editorial Guidelines: The above is meant as general information to help you understand the different aspects of auto insurance. This information does not refer to any specific auto insurance policy. Coverages and other features vary between insurers, vary by state, and are not available in all states. References to costs of coverages/repair, average or typical premiums, amounts of losses, deductibles, etc., are indicative and may not apply to your situation. We encourage you to speak to our insurance representative and to read your policy contract to fully understand your coverages.