Companies
Name
Quotes
Gainsco
$65

/mo

Arrowhead
$70

/mo

Amigo MGA
$75

/mo

The General Insurance
$86

/mo
Best Car Insurance Rates in Alabama
To decide which company has the best cheap car insurance in Alabama; we analyzed several factors. These factors include the health of the company, the reliability score of the company, the quality of the company. The table displays the top 4 car insurance providers in Alabama based on our researched data:
Cheapest Car Insurance Companies in Alabama
Do you want to save some money on your car insurance premium? Are you searching for cheap Alabama car insurance quotes? Then you are in the right place. At RateForce; we want to provide you with the cheapest rates from the best car insurance companies in AL. Here is the list of top 3 cheapest insurance companies in Alabama based on our researched data:
Companies
Name
Quotes
Gainsco
$65

/mo

Arrowhead
$70

/mo

Amigo MGA
$75

/mo
How To Get The Best Car Insurance Coverage Policy In Alabama?
Minimum Alabama Car Insurance Requirements
In the United States, it is compulsory to have at least the minimum coverage insurance to drive on the roads. But every state has its definition of minimum coverage car insurance. The same goes for Alabama; It also has different minimum requirement rules: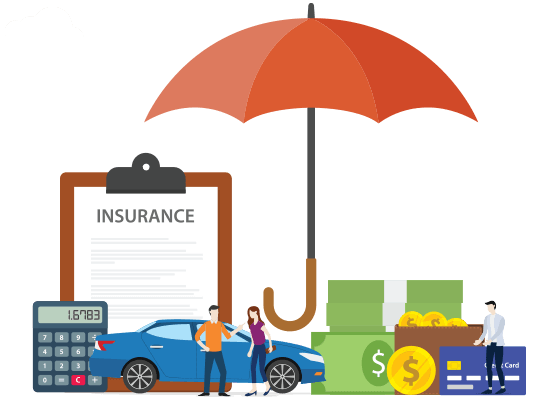 Cheap Minimum Liability Car Insurance Companies in Alabama
Here is the list of best companies that provide the lowest average rates to drivers for state minimum insurance coverage in Alabama:
GAINSCO: $70 per month
ArrowHead: $82 per month
The General Insurance: $97 per month
Progressive: $106 per month
GEICO: $114 per month
Cheap Basic Full Insurance Coverage in Alabama
Here is the list of top insurance companies that provide the lowest average rates to drivers for our unique basic full insurance coverage in AL. It includes collision and comprehensive auto insurance coverage apart from state minimum auto insurance coverage.
Nationwide: $145 per month
Travelers: $157 per month
Liberty Mutual: $169 per month
StateFarm: $182 per month
Allstate: $195 per month
Cheapest Premium Full Insurance Coverage in Alabama
Here is the list of top auto insurance carriers that provide the cheapest full coverage in AL. This covers all coverages as defined by state law in full coverage requirements with maximum benefits. Drivers with a clean driving record may consider this option.
Nationwide: $190 per month
Travelers: $205 per month
LIberty Mutual: $220 per month
StateFarm: $245 per month
Allstate: $262 per month
Other Types of Insurance Coverage in Alabama:
Collision Coverage:
Collision coverage insurance is very essential in cases where your car collides into other living and nonliving things. For example, a fence, a pole, someone's house, a deer, or even a pedestrian.
Vehicle Loan/ Lease Payoff Coverage:
This is very important for the drivers who have bought their vehicle on loan or lease. In case your car goes into complete loss, then the insurance company will pay the remaining lease amount or the loan.
Comprehensive Coverage:
Comprehensive insurance coverage is important when your vehicle gets caught in a storm, fire, thunder, or even vandalism.
Uninsured and Underinsured Motorist Coverage:
It is required in cases where the other driver doesn't have any insurance or not enough coverage to cover your damages. In such cases, your insurance company will come forward to cover all your expenses.
Rental Car Reimbursement Coverage:
Until your vehicle is under maintenance, the driver can rent a car. And the insurance carrier will cover all the charges for renting your car in that period.
Roadside Assistance Coverage:
This one is to help you if you are traveling outside the city and your car stopped at a deserted place. It can be due to a flat tire or mechanical issues; the insurance company will send roadside assistance.
Medical/Funeral Services:
This one covers the expenses of services like calling an ambulance, dead body transportation, or funeral services.
Car Insurance Quotes In Alabama Based on Different Ticket Profile
The car insurance cost for each driver is different because there are a lot of factors that affect final car insurance premium cost. Factors like age, experience on the road, education, marital status, gender, and even if the driver works in military forces. Following are different ticket profiles that have a major impact on the insurance rates:
Having a DUI on your record can lead to a major jump on your insurance premium. Getting out of DUI is a cumbersome process; SR-22 filing, reinstatement fees, court fines and then increase in rates.
There are a few ways you can save some money, like getting discounts, comparing rates, and carrying liability coverage only. There are a lot of companies that deny DUI drivers because of high-risk factors. Here are top companies to get cheap car insurance for Alabama:
Insurance Company
Quote
Gainsco
$130

/mo

Arrowhead
$140

/mo

The General Insurance
$172

/mo
Insurance Company
Quote
Gainsco
$98

/mo

Arrowhead
$105

/mo

Amigo MGA
$113

/mo

The General Insurance
$129

/mo
Cheap Car Insurance Rates for Drivers with an At-Fault Accident
As per the data by the Alabama Department of Transportation; In 2018 there were 159,925 car crashes reported. Once you have an at-fault accident on your record, you will be considered as one of the risky drivers. Risky drivers always file more claims and the company has to pay for their coverages many times in a year.
Most of the time insurance companies cancel the policy of the driver and other companies increase the rates to almost double. The only way for the driver is to pay for accident forgiveness. Here are some companies that provide affordable car insurance rates for at-fault drivers:
Car Insurance Rates for Speeding Drivers
Speeding drivers are also considered risky ones; in no time speeding can lead to an accident. Hence the company will have to pay more for the claims. The higher your speed was at the time you were caught, the higher points you will get on the license. The insurance company increases the price of premiums based on these points. Here are a few companies that can provide affordable insurance rates to speeding drivers:
Insurance Company
Quote
Gainsco
$104

/mo

Arrowhead
$112

/mo

Amigo MGA
$120

/mo

The General Insurance
$138

/mo
Young drivers or New drivers are always considered as one of the riskiest drivers. In Alabama state; drivers under 40 years of age usually get higher insurance premium rates. We can say that an insurance premium is inversely proportional to the age of the driver. As the age of the driver increases, the insurance rates start decreasing. Hence a 17-year-old driver will get the highest insurance rates as compared to 45-year-old drivers. Here are some companies that provide cheap AL Car insurance rates for young drivers:
Car insurance rates for Good drivers
Drivers who have clean driving records and years of experience on the roads are considered as excellent drivers. Good drivers always get lower insurance rates in every state of the United States. The same goes for Alabama; skillful drivers get as low as $65 per month insurance premium rates. The lower rates, other discounts, and comparing quotes can lead to saving hundreds of dollars in annual insurance premiums.
Insurance Company
Quote
Gainsco
$65

/mo

Arrowhead
$70

/mo

Amigo MGA
$75

/mo

The General Insurance
$86

/mo
Insurance Company
Quote
GAINSCO
$153

/mo

Nationwide
$178

/mo

GEICO
$196

/mo

Progressive
$214

/mo

StateFarm
$239

/mo
Car Insurance for Drivers with Poor Credit Score
Drivers with poor or bad credit scores also get higher insurance rates as compared to the others. There are some states where insurance companies are not allowed to consider credit score as a factor to calculate car insurance rates. Still, some companies increase the insurance rates based on the credit score of the driver.
Below are the companies that provide affordable car insurance for drivers with a poor credit score in Alabama:
SR-22 Car Insurance in Alabama State
If a driver has received too many traffic violations on the record, then carrying SR-22 documentation is mandatory. The SR-22 certificate is proof that the driver has all the legal requirements for car insurance. It can be for reckless driving, DUI, Hit and Run, and many other violations. The drivers in Alabama state have to carry SR-22 for 3 to 5 years.
| Company | Annual Average Premium | Annual Average Premium with SR-22 and DUI | Percent Increase |
| --- | --- | --- | --- |
| Gainsco | $780 | $1334 | 71.00% |
| Arrowhead | $840 | $1462 | 74.10% |
| Amigo MGA | $900 | $1575 | 75.15% |
| The General Insurance | $1032 | $1835 | 77.49% |
Which Auto Insurance Discounts available in Alabama?
Do You Know that the vehicle fatality rate in Alabama is twice the national average rate? And this is one of the biggest reasons that Alabama has such expensive car insurance rates. To get a bit of relief in auto insurance premiums, drivers can try to ask for some discounts from the insurance provider. Here are some discount types for Alabama drivers:
Insurance Binding Discounts:
Clubbing different types of insurance in one policy can help you get some discounts. This is also known as a multiple policy discount. When a driver buys policies other than car insurance from the same company. For example; if a driver is buying life insurance with car insurance. As a result, clubbing life and auto insurance, the driver can get good discounts.
Multiple Vehicle Discounts:
If you have over one vehicle and you decide to buy insurance for all of them. In such a case, the insurance company will try its best to convince you to buy the insurance from them. As a result, you will get good discounts. Make sure you are negotiating as much as you can because you will get price quotes from other companies too.
Safety Feature Discounts:
Safety features in your car help to ensure that the car and the passengers will be safe. Until the passengers are safe, the company doesn't have to pay the claims. The driver should have safety features in the car like car alarms, anti-lock brakes, automatic seat belts, etc. These types of features protect the car from stealing and passengers from injuries.
Upfront Premium Payment Discounts:
Every insurance company likes to get an advance annual payment of the insurance premium. Hence, to promote this, the company provides a good percentage of discount to the drivers who are paying in advance. Advance payment saves the time and efforts of the company which they spend in asking for monthly payments.
Auto Insurance Rates by City in Alabama
Every state has different insurance rates and so does every city. The crime rate in the city, the number of accidents in the city, and many other similar factors change the insurance rates. If you are wondering how insurance premium rates change for different cities in Alabama, then check the below table. Here is the list of insurance rates of top cities in Alabama:
City Name
Average Premium
Dothan
$147

/mo

Hoover
$172

/mo

Huntsville
$156

/mo

Tuscaloosa
$164

/mo

Birmingham
$176

/mo

Montgomery
$168

/mo

Mobile
$176

/mo

Auburn
$152

/mo

Decatur
$151

/mo

Madison
$155

/mo
FAQs

About Alabama Car Insurance

Q
How many days does a driver have to get a new car insured in Alabama?
A
The new car grace period is how many days a driver is allowed to use the car on the road without insurance. Every state can have its pre-defined grace period. In Alabama, the grace period for getting new car insurance is 2 to 30 days.
Q
Is PIP a minimum requirement in Alabama?
A
PIP or personal injury protection is usually mandatory in the states which follow no-fault rules. The insurance company in a no-fault state has to pay for the medical expenses regardless of who was at fault. Hence PIP is mandatory in such states. Alabama is an At-fault state, hence PIP is not required.
Q
What is full coverage insurance in Alabama?
A
In Full coverage car insurance, a driver has to buy collision insurance, comprehensive insurance, along with the minimum state requirements. Collision insurance covers the damage and repair cost when a driver collides with something or flips the car. Comprehensive insurance is to cover damages from fire, storm, or vandalism.
The same goes for Alabama State; a driver has to combine collision and comprehensive insurance along with the minimum liabilities.
Q
What is the Average Cost of Car Insurance in AL?
A
A typical driver gets an average of $633 per year for minimum liability coverage. And $1278 per year for full coverage.
Q
How long does Alabama allow to file a lawsuit for car accident claims against the insurance company?
A
The Alabama state has 2 years of statute of limitations for claims in car accidents. Most of the time, the insurance company drags the claim process to more than 2 years. Once the period is over, the driver can not file a lawsuit against the company. This is important information for a driver to keep in mind.
Q
How to get the cheapest car insurance rates in Alabama?
A
The best way to get cheap and affordable car insurance rates is by searching online, getting quotes from different companies, and comparing them. RateForce is here to help you with the process. Our advanced software and reliable team together will provide quotes from the top insurance companies in Alabama. All you have to do is provide us some basic details and then relax. We will make sure you get the cheapest car insurance in AL.
Still, have other questions in your mind? Here is the detailed version of all the popular FAQs about car insurance.
Have a clean driving records? Compare and Get Discounts on Insurance Quotes.
Editorial Guidelines: The above is meant as general information to help you understand the different aspects of auto insurance. This information does not refer to any specific auto insurance policy. Coverages and other features vary between insurers, vary by state, and are not available in all states. References to costs of coverages/repair, average or typical premiums, amounts of losses, deductibles, etc., are indicative and may not apply to your situation. We encourage you to speak to our insurance representative and to read your policy contract to fully understand your coverages.